Cold Capellini with Roasted Eggplant and Yuzu-kosho Sauce
Yes, that's right...I eat eggplant basically every day during summer, and I have so many recipes (often I just make them up)!!
I was craving for a pasta dish lately, so I made a cold capellini (angel hair pasta) with Japanese eggplant.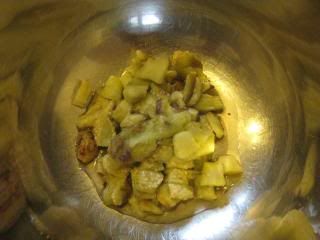 Once the eggplants are grilled, I peeled the skin and cut most of them into small pieces. I also cut some of them into thin strips. So, I can enjoy the different textures in the dish.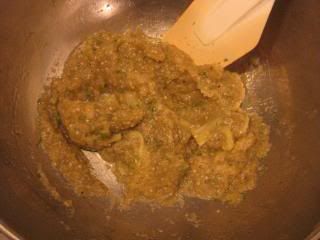 Small cut eggplants were pureed with roasted garlic, then mixed with a small amount of yuzu-kosho, chopped dill, lemon juice, yuzu juice, olive oil, grated Parmigiano Reggiano salt and pepper.
Capellini pasta was boiled 1 minute
longer
than the package instructions. After drained and rinsed in cold water, the pasta was quickly chilled in ice water. Ice water tightens the texture of the pasta, so it's important to cook it longer. Otherwise, the pasta would become too firm.
Pasta was quickly tossed in the sauce, divided into plates, and garnished with more Parmigiano Reggiano, diced tomato, shiso leaves, and more olive oil. The texture, flavor, and the temperature were all perfect! I loved the hint of yuzu-kosho flavor...it wasn't overpowering, but rather it gave a nice accent and aroma. I also liked that I used dill to mix with the pasta and used shiso for topping, it made the dish so refreshing and more complex.
Here's my "whimsical" recipe.
Cold Capellini with Roasted Eggplant and Yuzu-kosho Sauce
Ingredients:
(3 servings)
(sauce)
4 medium-size Japanese eggplants
1 clove garlic (unpeeled)
1/2 teaspoons or more yuzu-kosho paste
1/2 tablespoons chopped dill
1 to 1-1/2 tablespoons combination of lemon and yuzu juice
1 tablespoon olive oil
1 tablespoon Parmigiano Reggiano
salt and pepper to taste
5 oz (150 g) capellini (angel hair) pasta
2-3 small tomatoes
some thinly-sliced shiso leaves
some more Parmigiano Reggiano, salt and pepper
Procedure:
To prepare the tomatoes, blanch them 10 seconds in boiling water, shock in the ice water, and peel the skin. Cut into quarters and drain the juice and seeds. Cut into small cubes. In a small bowl, season the tomato with some salt, pepper, and olive oil. Chill in the refrigerator.
Roast eggplant and garlic on a net over gas stove until the skin is charred and inside is soft. Peel the skin. Cut 3 egg plants into small pieces and put in a bowl. Cut the remaining 1 egg plant into strips. Set aside in a separate plate.
Puree the small cut eggplants with roasted and peeled garlic. Add the remaining ingredients for the sauce and mix well. Cover and chill in refrigerator.
Meanwhile, cook the capellini 1 minute longer than the instructions in a package. Drain and rinse in cold water, then immediately transfer to an ice water. Let it chill for 30 seconds. Drain well.
Add the cappellini and saved eggplant slices into the bowl with the pureed eggplant sauce. Toss by using tongs.
Divide into 3 plates. Garnish with additional Parmigiano Reggiano, salt, pepper, tomatoes, and shiso leaves. Serve immediately.
Loving this dish.