Salt-crusted and roasted New Zealand Sea Bream (6 pounds!)
Salt-crusted fish is one of the favorite ways to cook fish for me. All you need are a nice quality fish and a few basic ingredients. It's not only simple and easy to make, but also this method helps the fish cook so effectively. The salt crust retains the moisture and flavor of the fish inside, while seasoning it evenly. And, it's so entertaining, too!
Basic moethod:
Clean the fish and pat dry thoroughly.
Fill the fish cavity with your choice of aromatics.
Make the batter for the crust and cover the fish all around.
Bake at 450F (220C) degrees until done, and let it rest for 10-15 minutes.
Carefully crack open the crust and remove from the fish.
Enjoy the fish with your choice of condiments. (Normally just a squeeze of lemon and olive oil would be perfect!)
For the salt crust:
To make the batter for the salt crust, you whip egg whites until soft peaks and gently fold in the salt in 3-4 times. For every 1/2 cup (120 ml) salt, you need 1 egg white.
For every 2 pound (0.9 - 1 kg) of fish, you need 1 1/2 cups (360 ml) salt and 3 egg whites.
Make the batter right before you use it and put the fish in the oven as soon as it's covered with the batter (make sure the oven is pre-heated). Otherwise, the batter would deflate and start to fall apart.
Other notes:
For 6-pound (3 kg) whole fish, roast for about 35 minutes. Cook longer for larger fish.
For 4-pound (2 kg) whole fish, roast for about 25 minutes. Cook for less time for smaller fish.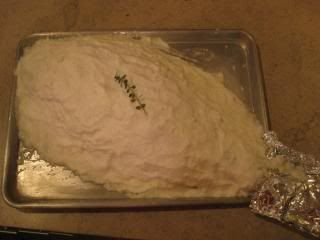 One night at a dinner party at friends' house. My frind got a beautiful 6-pound (about 3 kg) whole New Zealand Sea Bream. We did it in a classic Western-style with stuffings of mixed herbs (thyme, marjoram, and mint), and made the salt crust by using Kosher salt.
After resting it for 15 minutes, the fish was so perfectly ready. With donabe mix rice and side dishes, the fish made a great main dish at the dinner party with wine friends.
The other day, I found another beautiful fish from New Zealand. It was a rather rare kind, Ruby Fish. It weight 4 pounds (about 2 kg). I made my usual Japanese way with Japanese sea salt, which is quite moist.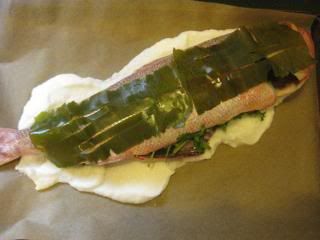 Salt-crust fish is a popular dish in Japan also and it's called "Shio-gama Yaki" (塩釜焼). I stuffed the cavity with shiso leaves (I didn't have enough many shiso, so I used some cilantro also:-). I also softened the dry kombu (kelp), cut some slits and covered fish skin (both sides) with the kombu. It's good to cut many slits in the kombu, as it would not only release more umami flavor, but also the salt can pass through more easily.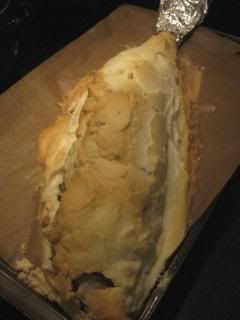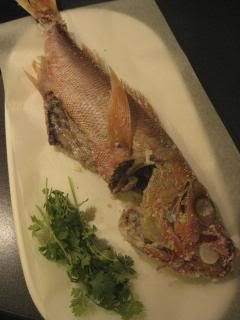 After 25 minutes in the oven and 10 minutes resting, the fish was ready. It came out so beautiful. It was my first time to try ruby fish and I really liked it. The fish meat is naturally firmer than snapper or other popular types of white fish. I loved the gentle umami nuance from the kombu. The fish was big enough to feed 4 adults and we still had some nice leftover!
Of course, we had
donabe rice
with this fish.
Happy donabe life.