You can make this dish with any classic-style donabe. I used
medium-size Yu-Kizeto
. This is an extra-light weight donabe, so it's especially handy for a quick this like this.
Tofu & Chicken Stew
Ingredients:
1T sesame oil
1/2T thinly-sliced (into threads) ginger
5oz ground chicken
2oz daikon, thinly-sliced crosswise, then quartered
5oz shimeji mushrooms
1.5T sake
1.5T mirin
1C dashi stock
14oz soft tofu
1.5T light-color soy sauce ("usukuchi shoyu")
salt to taste
1T potato starch
2T water
sansho pepper to taste (optional)
1/2tsp finely-minced yuzu rind (optional)
some chopped mitsuba (optional)
Procedure:
1. In donabe, heat the sesame oil and sauté the ginger for 1 minute over medium heat.
2. Add the chicken and daikon, and sauté until it's mostly cooked through and crumbly.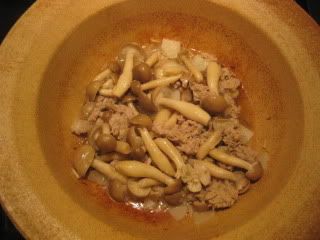 3. Add the shimeji mushrooms and continue to sauté for 2-3 minutes.
4. Add the sake, mirin, and dashi stock. Bring to a simmer.
5. By using a spoon, break the tofu and add to the broth. Cover and simmer for a few minutes.
6. Add the soy sauce and stir. Adjust the seasoning by adding salt, if necessary. In a small cup, whisk together the potato starch and water. Drizzle the mixture into the broth and stir to thicken.
7. Remove from the heat and sprinkle a pinch of sansho pepper. Garnish with the yuzu rind and mitsuba.
Each ingredient gives a nice flavor profile, yet they are nicely integrated on the palate. Very lovely.
Happy donabe life.