This is a great steamy dish for meat lovers.
The flavor is so bold and the "meaty". Jason says this is now one of his favorite home steamed dishes with our
donabe steamer, "Mushi Nabe"
.
I was inspired by Chinese steamed spare-rib for this dish, so I use different kinds of Chinese ingredients, which are easy to find at local Asian grocery stores. I love the hot & spicy kick from the dobanjiang (Chinese hot bean paste), but you can use less or completely omit it if you prefer less spicy version.
Steamed Spicy Kalbi (beef short ribs)
Ingredients:
1/2 pound boneless kalbi (beef short rib), cut into 3/4" cubes
1/4C domyoji-ko (corsely-ground sweet rice...if you can't find it, you can substitute it with regular sweet rice and grind them into coarse grains by mortar and pestle)
1/4 small-size cabbage
1/2 cup soybean sprouts
(for the marinade)
1/2T Chinese fermented black beans
1/2T dobanjiang (Chinese hot bean paste)
1/2T dark miso
1T Chinese rice wine or sake
1tsp soy sauce
1 clove garlic, grated
1 teaspoon grated ginger
a pinch of each sugar and black pepper
1/4tsp Chinese five spice
1/2T potato starch
1/2tsp sesame oil
Procedure:
1. Whisk together the ingredients for the marinade in a bowl. Add the meat and mix well. Cover and refrigerate for 30-60 minutes. Add the domyoji-ko and mix again. Set aside.
2. Get Mushi Nabe (donabe steamer ready). In a basket or a shallow plate which can fit the donabe, arrange the cabbage and soybean sprouts in layers. Spread the meat mixture on the top.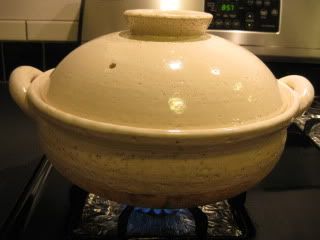 3. Set the basket in Mushi Nabe. Cover and steam over medium-high heat for 10-12 minutes or until the meat is cooked through. Serve immediately.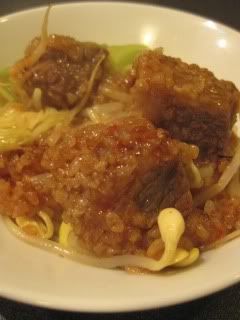 The meat was super flavorful and really great. We were so excited that I even forgot to garnish the dish with some sliced scallion! Another great thing about this dish is that it's served with a lot of vegetables, so it won't taste too heavy. Also, the cabbage soaks all the wonderful meat juice and tastes amazing.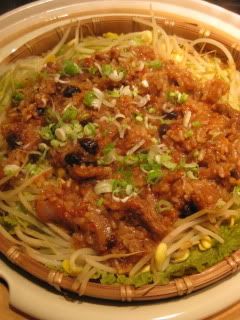 If you can't find thick cut of kalbi, you can make the dish with thinly-sliced kalbi, too. I could only get the thinly-sliced kind for yakiniku the other day, so I cut them into smaller pieces and made the same dish. It was really tender and nice, too.
Happy donabe life.