I picked up the fresh mussels at the Sunday Hollywood farmer's market.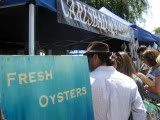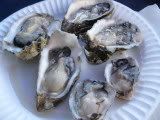 We also had the freshly shucked oysters (3 kinds) to savor during shopping.
Just like the clams I cooked last week, I pan-steamed the mussles tonight. It's a slightly different recipe than the last week, and the taste is equally nice.
Thai-style Pan-steamed Mussels

Ingredients
2 lb. mussels, cleaned
1 cup broccoli, cut into bite size pieces
7-8 ea. cherry tomatoes, cut into half if too big
2 tbsps. Chinese rice wine
1/2 tbsp. sesame oil
(sauce)
2 tbsps. nanpla (fish sauce)
1 tsp. sugar
3 ea. dried red chili peppers, sliced thinly (use less if you want to make it less hot)
2 cloves. garlic, minced
1 tbsp. ginger, minced
juice from 1 meyer lemon
a small bunch of basils
Procedure
In a pan, place the mussels, broccoli and cherry tomatoes. Drizzle the Chinese rice wine and sesame oil over the ingredients. Cover with the lid and cook over medium heat. Cook until the shells open (about 5 minutes).
While the mussels are cooking, make the sauce by combining the sugar, chili peppers, garlic, giner, and meyer lemon juice.
Once the mussels are cooked, pour the sauce over the mussels. Tear the basil leaves and add to them. Then, shake all the ingredients together.
Transfer to a serving bowl.