One of my favorite things to do in LA is going to Sunday Farmers' Market in Hollywood and cook dinner with the fresh ingredients from the market on Sunday night.
There is this great vender who sells fresh oysters and clams from California. They shuck fresh oysters to order. It's $2 each. We tried two kinds today. Fantaaastic!
I got 2 pounds of clams to take home, and came up with this simple pan-steamed dish. It's kind of Thai-style with nanpla (fish sauce) and red peppers. All the vegetables and herbs were also from the farmers' market. The dish is absolutely simple and the result is wonderful.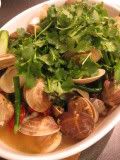 You basically just put most of the ingredients in a pan and heat it.


Steamed Clams with Asparagus and Cherry Tomatoes

Ingredients
2 lb clams, cleaned
1/2 bunch asparagus, cut into 5" length
1 cup cherry tomatoes, halved
2 tablespoons nanpla (fish sauce)
1 tablespoon sake
1 teaspoon sugar
1 teaspoon minced garlic
1/2 tablespoon minced ginger
1/2 tablespoon thinly sliced dried red chili pepper (use less if you like it less hot)
1/2 tablespoon sesame oil
juice from 1 meyer lemon
cilantro for garnish
Procedure
In a pan, spread the clams and cover with the asparagus and cherry tomatoes.
Mix the nanpla, sake, sugar, garlic ginger and dried red chili pepper, and pour the mixture over the clams and vegetables in the pan. Drizzle the sesame oil.
Cover the pan with the lid and cook over medium heat for about 8 minutes or until all the clams are open. Discard any unopen clams.
Pour the meyer lemon juice to the clam mixture.
Transfer the cooked clam mixture into a serving bowl and garnish with the cilantro.