Mikiko (Mom), Tomoko (Sister), and I
7.05 am on April 16, 2016 (Japan time). My mom, passed away.
It was a day before my scheduled donabe cooking presentation at Sakura Matsuri in Washington DC. My sister, Tomoko, told me a few days before that the doctor notified her she wouldn't last long, so I told myself to be ready for any news. In her final minutes, I was in a hotel room, connected with Tomoko via mobile text messaging. Then, Tomoko eventually texted that she was pronounced dead.
Mom's spirit has departed to heaven.
I fulfilled my DC schedule (but didn't tell anyone), then a morning after coming back to LA from DC, I left for Japan.
I met Mom's body. Her body was so tiny, but her face was calm and beautiful. When I saw her last time in her hospital room in March, because I knew deep inside that it was going to be the last time to see her alive, I tried to imprint her last look in my memory. She looked like she was suffering. So, I was happy that she didn't have to suffer anymore and would be in better place, heaven, with Dad.

Her funeral was also beautiful. She was surrounded by a lot of flowers, which she loved so much.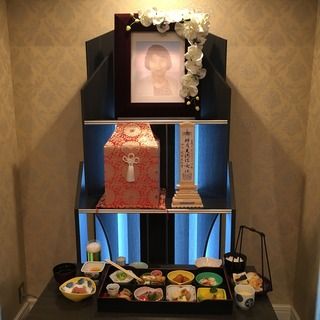 After the funeral, she was cremated, then we had "Shojin Otoshi" meal. We offered the same meal to her, with a glass of beer.
I miss her so much.
I should be stronger, but I'm very, very sad, and I can't help it.
There is nothing but all the fun memories with her in my head, and I miss her even more and feel even more sad. I wonder if she was happy in her last years after Dad died, then Grandma (her mother) followed. I should've paid more attention to her feelings and done more to make sure she was happy. There are also so many things I wanted to do for her in the future. But, it's too late. Now, I have all the regrets.
I returned my home in LA yesterday. Papa & Mama...thank you so much for having been my parents and always loving me and taking great care of me. I always love you both.
Mom's posthumous Buddhist name is 輝月美徳信女, which describes she was a generous person who dedicated her life for other people's happiness, and she was also a bright and faithful person in her human life.