Sakura Mochi (cherry blossom mochi) is a very popular seasonal Japanese dessert in the spring time. There are two kinds of Sakura Mochi. For the eastern (Tokyo) style, anko (sweet azuki bean paste) is wrapped in a thin pancake, and for the western (Kyoto) style called "Domyoji", anko is wrapped in a sticky layer made of domyoji (cracked mochi rice) flour.
I'm from Tokyo, but I love the western style, Domyoji, and I've been making them at home almost every spring time past years.
The ingredients are not very easy to find outside of Japan. This time, I got all the top quality ingredients back from Japan. So, I was especially excited.
Salt-marinated sakura (cherry blossom) leaves (from Izu) and flowers (from Okayama). They were rinsed to remove excess saltiness and set aside.
Domyoji-ko is made from mochi rice (sweet rice), which was steamed, dried, then cracked into a course powder. For sakura mochi, tiny amount of food coloring is used to give the light sakura color before cooking it. And, past years, I made my Sakura Mochi without coloring the domyoji-ko. This time, I found domyoji-ko which was already colored in pink. I steamed it in my
donabe steamer, "Mushi Nabe"
, it came out so pretty! I see many people cook domyoji-ko in microwave for convenience, but I highly suggest you do the traditional way, steaming! Domyoji-ko, steamed in donabe has the best texture and the flavor.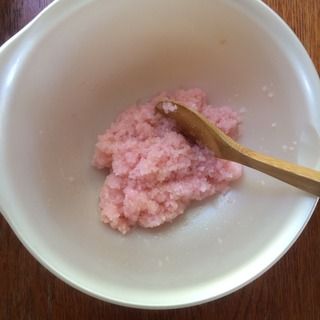 Once the domyoji-ko is steamed, a small amount of sugar is added and mixed. Then, I wrapped anko (sweet azuki bean paste...I used coarse kind from Hokkaido) with it.
To finish, each piece was topped with a salt-marinated sakura flower and wrapped in a sakura leaf. They were so good that I always feel nothing can beat homemade Sakura Mochi! I made 12 pieces and ate 10 by the next morning (2 were saved for Jason). I love Sakura Mochi so much. The aroma of sakura from the flowers and leaves give such special nuances to this delicacy.
Here's my recipe:
Sakura Mochi
Yield: 12 pieces
Ingredients:
150 g domyoji-ko (cracked mochi flour)
12 pieces salt-marinated sakura leaves
12 pieces salt-marinated sakura flower
240 g anko (sweet azuki bean paste)
1 tablespoon sugar
Procedure:
Soak the domyoji-ko with an ample amount of lukewarm water in a bowl for 10 minutes. Drain.
Soak the sakura leaves and flower in water in separate leaves for 5 - 10 minutes. Remove them from the water and pat dry. Set aside.
Divide the anko into 12 and shape each into a ball. Set aside.
Get Mushi Nabe ready. Rinse a tenugui (thin cotton towel) and wring, then line the Mushi Nabe grate with it. There should be extra length of tenugui hanging from both side.
Spread the drained domyoji-ko over the tenugui and wrap lightly with the remaining ends of tenugui from both sides. Cover with lid and steam for 25 minutes over medium-high heat. Turn off the heat and let it rest for 5 minutes.
Transfer the steamed domyoji-ko to a bowl (you can lift the whole tenugui carefully and invert the contents into a bowl easily) and add the sugar. Mix with a spatula well.
Set a bowl of water on the side. Wet both hands and take 1/12 of the domyoji-ko and flatten to a round shape.
Take a piece of anko and wrap with the domyoji-ko nicely. Top a piece with a sakura flower and wrap with a sakura leaf. Repeat the process with the remaining ingredients.
Sakura Mochi can be stored in a tightly-sealed container up to 1 day in a cool place (no refrigeration).
Happy Donabe Life.