(Photo by Motoko Oshino)
I arrived in Washington DC last Thursday to do a donabe cooking demonstration at Sakura Matsuri, annual Japanese street festival, as part of Cherry Blossom Festival on Saturday there.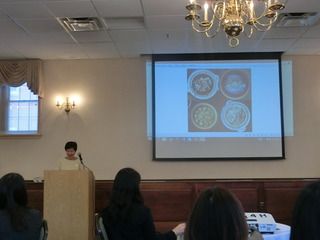 On Friday, prior to the Saturday main event, I was invited as a speaker at JAPAN Bowl meeting for high school teachers who teach Japanese language in the US. It was such a pleasure to talk about my "happy donabe life" journey, and I was glad they enjoyed my presentation.
(Above two photos courtesy of the Japan-American Society of Washington DC)
In the afternoon, I started prepping for the cooking demonstration the next day. I made a test batch of rice with my
double-lid donabe rice cooker, "Kamado-san"
to check the stove's condition in the prep kitchen. The donabe rice came out really perfect, just like in my kitchen, and I was so happy.
(Above two photos by Masako Morishita)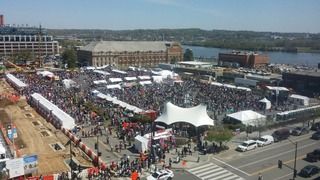 On Saturday, the day of
Sakura Matsuri
, the the weather was so gorgeous with the beautiful blue sky. There was a huge line of people even before the venue opened at 10.30 in the morning. Every year, tens of thousands of people attend this event.
(P
hoto courtesy of Reiko Hirai)
I spent busy hours cooking tasting samples of my dishes for the attendees before my demonstration.
(Photo by Masako Morishita)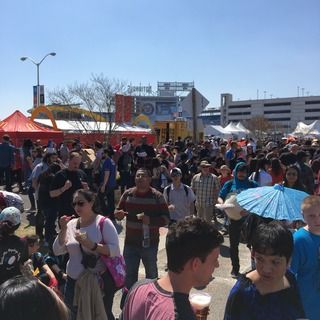 My demonstration was scheduled at 4 pm. When I arrived there, the event was in full swing and packed with people!
They are the audience for my donabe demonstration. All the seats were completely full and there was even a big standing crowd going outside of the tent!
(Photo by Motoko Oshino)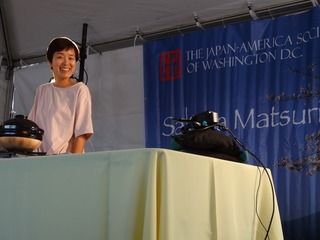 I was ready!
(Photo by Motoko Oshino)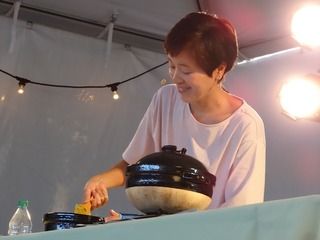 My donabe cooking demonstration started.
(Above two photos by Motoko Oshino)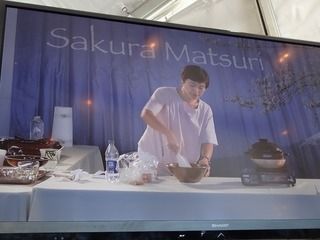 I made Matcha Onigiri (green tea rice balls) and Shira-ae (vegetables, mixed in tofu cream).
(Photo by Motoko Oshino)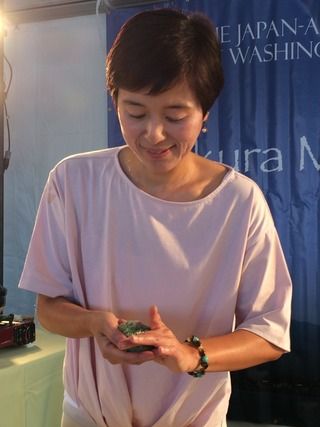 (Above two photos by Yentzu Chen)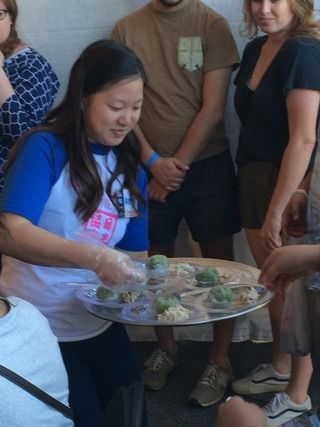 Tasting samples were passed around to the audience.
(Above two photos by Yentzu Chen)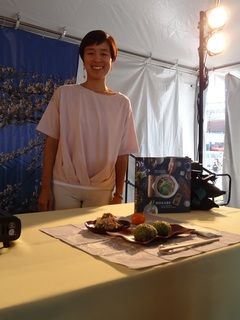 I had a great fun!
(Above two photos by Motoko Oshino)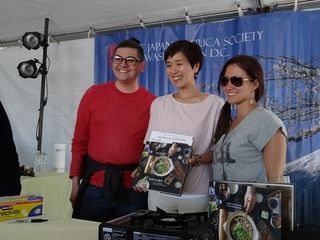 The demonstration was followed by book-signing session. There was a long line of people who came to talk to me and gave me such generous compliments about my demonstration. It was such an honor to do the presentation and meet so many wonderful people at this hugely popular and important event for Japan-US cultural exchange.
(Above three photos by Motoko Oshino)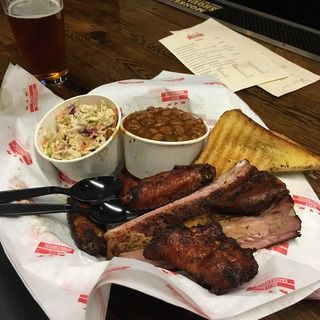 Wrapping the final night at a very local cool bar. I enjoyed DC-style BBQ!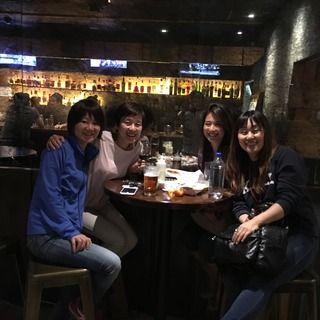 I would like to thank Reiko (left), Masako (3rd from left) and Motoko (right), who realized my participation in this event and gave me all the help to make the presentation a big success!
Happy Donabe Life.