I was in a mood for a seafood hot pot.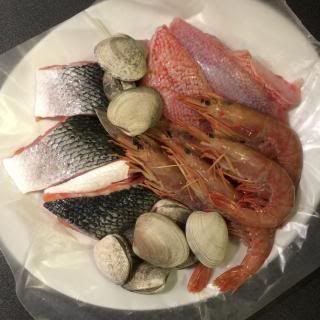 So, I got salmon, kinki (rock fish), head-on shrimp, and clams to cook in my
classic-style donabe, "Hakeme"
. I made Japanese-style bouillabaisse with the combination of miso, saffron, and tomato sauce.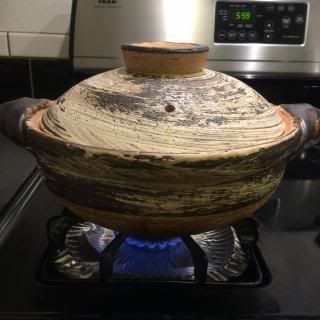 The process is quite simple. I sautéed onion, ginger, garlic, and saffron first, before the eringi mushrooms were added. Sake, tomato sauce, and kombu + fumet de poisson were added. Once the broth started simmering, seafood and turnip were added and cooked until done. Miso was stirred in to finish.
Miso Saffron Bouillabaisse
(for medium-size Classic-style donabe)
Ingredients:
4 servings
600 - 700 g (1 1/2 pound) fish, such as salmon, rock fish, and/ or tai snapper
4-5 head-on shrimp
300 g (10 oz) clams
2 tablespoons olive oil
1/2 medium-size onion, minced
1 clove garlic, minced
1 small knob ginger, minced
1 pinch saffron
150 g (5 oz) eringi mushrooms, cut into smaller pieces
60 ml (1/4 cup) sake
120 ml (1/2 cup) tomato sauce
800 ml (3 1/3 cup) kombu dashi
2 sticks fumet de poission powder (optional)
3 large kabu (Japanese turnip), peeled and cut into wedges
2 tablespoons miso
salt and pepper
Procedure:
Season the fish with salt. Set aside. Pat dry the moisture released by the salt.
In the donabe, heat the olive oil and sauté the onion, garlic, and ginger over medium-low heat.
Once the onion is very soft, add the saffron and continue to sauté for a couple of minutes.
Add the eringi mushrooms and sauté for additional couple of minutes.
Deglaze with sake. Add the tomato sauce, and kombu dashi. Add 2 sticks of fumet de poisson powder (optional). Bring to a boil, and reduce to simmer.
Add the kabu wedges and fish. Cover and simmer for a few minutes.
Add the shrimp and clams. Continue to simmer until everything is cooked through.
Add the miso and dissolve in the broth. Adjust the seasoning with salt and pepper, if necessary.
With the leftover broth, as a "shi-me" (finishing course), I made "ojiya" (quick soupy rice porridge) by adding the donabe rice. It was super delicious.
Happy donabe life.