It's been over a week since my last blog post. Meanwhile, I've been cooking so many donabe dishes, but I simply didn't have any time to write my blog. My non-cooking time has been completely occupied with writing for my upcoming donabe cookbook. At last, I finally finished the very first draft of the 1st chapter (the first chapter is mostly narrative and it's all about donabe, its history, culture, Iga, and Nagatani-en, the donabe producer). It took me weeks and it was so hard, but I'm very happy with the content! Hew.
Here's one of my recent hit donabe dish.
Kamo Tofu Nabe
(duck and tofu hot pot).
I was inspired by
a dish I had in Kyoto
a few years ago (their donabe rice was wonderful, too). So, I wanted to make it in my own version, and of course, I used
Kyoto-style shallow donabe, "Kyoto Ame-yu"
, to make this dish.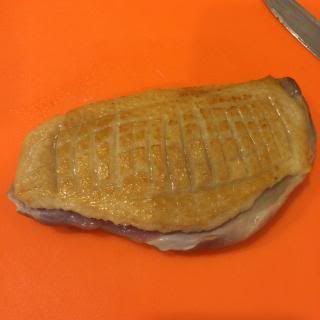 I seasoned the duck breasts with sea salt and left overnight in the fridge. Then, I lightly browned just the skin side over low heat in a pan before slicing. This way, the excess fat is released before the meat is put in a donabe and also the skin gives nice (slightly toasty) flavor.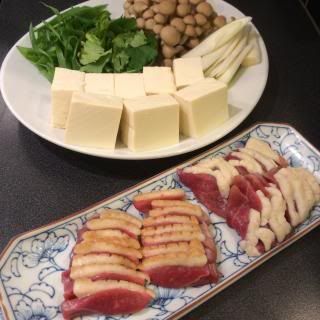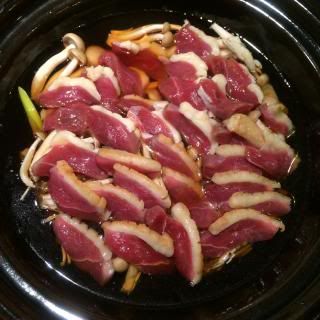 The basic ingredients....300 g (12 oz) duck breast, 1 package (400 g)soft tofu, white part of negi (Japanese green onion), shimeji mushrooms, mitsuba, and negi's green part. The ingredients were piled up (starting with the white part of nevi, shimeji mushrooms, tofu, and duck breast. The broth (480 ml or 2C dashi stock, 150 ml or 5 oz sake, 5 tablespoons miring, 50 ml usukuchi shoyu - light color soy sauce) were gently poured in.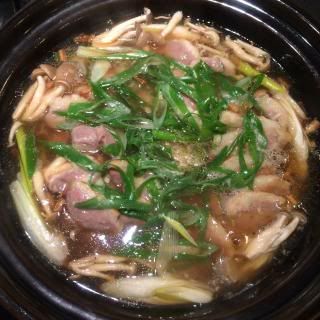 Green part of the negi was added on the top, and the donabe was covered with lid and set over medium-high heat. Once the broth starts simmering, the heat was turned down to medium-low and simmered until the meat was almost cooked through (about 8 minutes).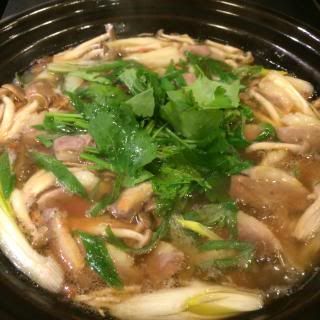 To finish, mixture of 3 tablespoon kuzuko (arrowroot starch) and 4 tablespoons dashi stock was gently stirred in, and 1/2 tablespoon grated ginger, some sliced yuzu rind, and chopped mitsuba green were added. The dish was ready.
I loved the tenderness of the meet and the rich and slightly thick texture broth. It was superb. I served the dish with some black shichimi from Kyoto.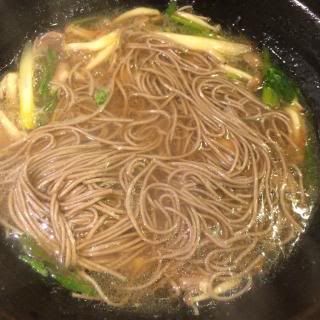 With the leftover broth, as a final "shi-me" course, we did soba!
Happy donabe life.