January 7 is a day of "Nanakusa" in Japan. It means 7 herbs, and we eat "Nanakusa-gayu" (7-herb porridge) on the day to wish for good health.
Because it's almost impossible to find all the
7 herbs for "Nanakusa-gayu"
in LA, I improvised and made my own version of herb porridge with "Nanohana" (rape blossoms), which is also difficult find in LA but I happened to find at a Japanese market.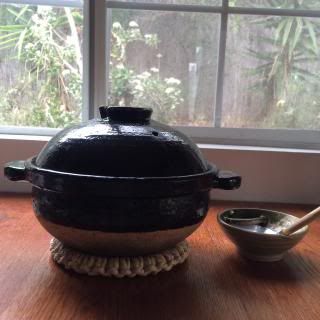 My
double-lid donabe rice cooker, "Kamado-san"
, makes wonderful porridge always.
I used partially-polished brown rice to make the porridge this time and it came out really nice.
I got another good luck today!
Rape Blossoms Porridge ("Nanohana-gayu")
Boil 3 cups (720 ml) water in "Kamado-san". Add the rinsed 2/3 rice-cup (120 ml) rice and cook over high-heat for 3 minutes.
Turn down the heat to medium and continue to cook for 12 minutes or until the rice is just tender. Meanwhile, stir from time to time.
Add 5 oz (150 g) rape blossoms (cut into 2/3" or 1.5 cm length) and cover with lid. Turn off the heat and let it rest for 3-5 minutes.
Serve into individual bowls with salt on the side.
*Rape blossoms can be substituted with broccoli rabe.
*For richer flavor, you can use dashi stock instead of water to cook the rice.
Happy donabe life.