Cookbook
, which sells quality ingredients and deli items. I love walk by there to pick up organic vegetables from California farms and just cook simple way to enjoy their natural flavors.
I made simple lunch with vegetables from
Cookbook.
With purple kale, I made crispy kale. I simply tossed kale leaves in olive oil, salt, and pepper, and roasted in the 450F (230C) oven for 10 minutes. It's a quite addictive snack!
Beautiful red turnips, cauliflowers and kabocha were steam-roasted in my
tagine-style donabe, "Fukkura-san"
. To make it, in the skillet of "Fukkura-san", I tossed the vegetables in olive oil, salt and pepper, and spread in a single layer. Added 1/4 cup (60 ml) water, cover with lid and cooked over medium heat until all the vegetables are cooked to tender (about 10-12 minutes. Right before turning off the heat, I added a few leaves of the turnips.
The donabe was served at the table. It came out so nice. This donabe does the real wonderful steam-roasting job and makes the vegetables cook very nicely.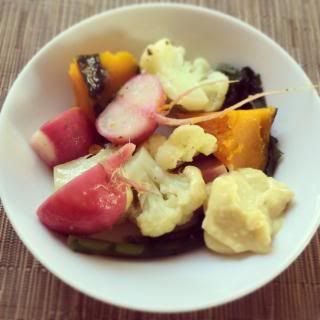 These vegetables were served with my homemade Saikyo miso aioli. Here's my quick recipe:
Saikyo miso aioli
Put the following ingredients in Vitamix.
1/4 cup lemon juice
1/4 cup Saikyo miso (or sweet white miso)
1/2 shallot
1 small clove garlic
1 small knob ginger
1/2 tablespoon Dijon mustard
3/4 cup olive oil
a pinch of each salt and pepper
Blend until the mixture becomes thick paste.
Happy donabe life.