I made my own version of Dan Dan Mein (noodle in sesame sauce), topped with miso-flavored kurobuta pork.
Sauce (2 servings) is 4 tsps sesame paste, 2 tablespoons soy sauce, ½ tablespoon black vinegar, ½ tablespoon la-yu (hot sesame oil), ½ tablespoon sesame oil, 2 tablespoon minced scallion, 1 teaspoon, agave syrup, and some ground Szechuan pepper. They were whisked together and divided into two bowls.
For the pork, 3-4 oz ground kurobuta pork was mixed with 1/2T Chinese rice wine and a pinch of salt. It was sautéed in a pan. ½ teaspoon minced garlic, 1 teaspoon minced ginger, 1 teaspoon sugar, ¼ teaspoon ground Szechuan pepper, 2 teaspoons each miso and Chinese rice wine were added and simmered. At the end, 1 tablespoon minced cilantro stems were added and stirred.
Cooked Chinese noodles were added to the bowl, and topped with the ground pork mixture.
The dish was finally topped with some roasted minced almond, soft-boiled egg, cilantro, and my homemade chunky la-yu (hot oil).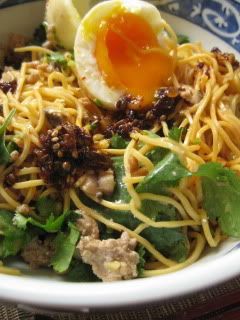 To enjoy this dish, all the ingredients need to be mixed in the bowl and eat. It was so perfect and so satisfying!