My asparagus & hijiki donabe rice (Photo by Jeni Afuso)
Last year, we hosted a pretty big July 4 BBQ party at home. I cooked all the dishes and we had a great time.
This year, Jason and I were playing with the idea of hosting again, then we realized there was no way, considering the crazy schedules we had been in and we had been quite burned out.
Then, our friends, Dylan and Jeni (they came to our BBQ last year) invited us to a BBQ at their home. Asami and Steve, who just returned to LA from 2-year residency in Nagoya, Japan, also joined. We all cooked and it became a fantastic gourmet July 4th BBQ dinner with friends.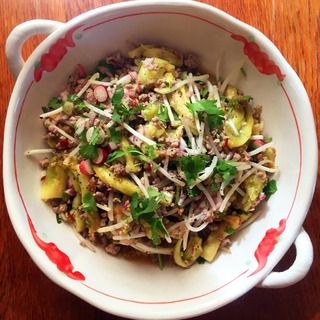 Appetizers...I made watermelon salad (with Kyoto shichimi peppers and vinegar) and Thai-style grilled eggplant salad. Asami's kiriboshi daikon (dried daikon strips) and spinach salad was so tasty.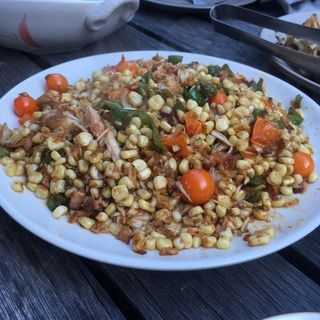 Skillet corn and crab meat by Dylan. The dish was seasoned with beer, nan pla and a dash of dukkah.
Grilled sausages and turmeric chicken by Asami & Steve. I loved the chicken so much.
Shichimi Chimichurri marinated skirt steak by Dylan. Wonderful texture and flavor.
I made asparagus and hijiki mochimugi rice with
double-lid donabe rice cooker, Kamado-san
. (Photo by Jeni) I was glad everybody loved it! I added a packet of
mochi mugi
barley (considered to be a superfood: even more health benefit than conventional barley) to the rice, because I love its texture and flavor. But, you can make it only with the rice, too. Please find the recipe below.
Such a fun evening of celebrating America's birthday with wonderful friends! (Photo by Asami)
Asparagus & Hijiki Rice
(Serves 4 - 6)
Equipment:
Kamado-san
(3 rice-cup size)
Ingredients:
5 ounces asparagus, tough bottom trimmed
Generous 1 tablespoon short dry hijiki seaweed
2 rice-cups (1 1/2 US cup or 360 ml) short grain rice, rinsed and drained
1 1/3 cups (320 ml) vegetable stock
2 tablespoons sake
1 tablespoon usukuchi shoyu
1/2 teaspoon sea salt
Procedure:
Shave off 1/3 end of the asparagus skin. Cut the asparagus into 1/4" (6 mm) thick pieces, except for the tips.
Soak dry hijiki in a bowl with generous amount of water for 30 minutes. Rinse, drain and gently press out excess moisture. Set aside.
In Kamado-san, combine the rice with the stock, sake, and soy sauce and sea salt. Let the rice soak for 20 minutes.
Spread the hijiki over the rice. Cover Kamado-san with both lids and cook over medium-high heat for 13 - 15 minutes, or until 2 - 3 minutes after the steam starts puffing from the top lid.
Turn off the heat and let it stand, undisturbed, for 15 minutes.
Quickly open both lids and spread the asparagus over the rice. Cover with both lids again and let it rest for additional 5 minutes.
Uncover and fluff with a spatula. Serve into individual bowls.
***For mochi mugi barley version, add a packet (2 oz/ 60 g) of mochi mugi and 1/2 cup (120 ml) stock in step 3. Increase the amount of salt by a pinch.
Happy donabe life.