Hiramasa ssam wrap, served in donabe
The other night, I got together with Akiko, who just recently came back to LA after a little over a year in Tokyo. We celebrated her return at
Otium
in Downtown. Yes, t's one of my favorite restaurants in LA. We enjoyed different dishes off the menu.
Amberjack. Corn agnolotti and lobster nage and shaved black truffles from Australia.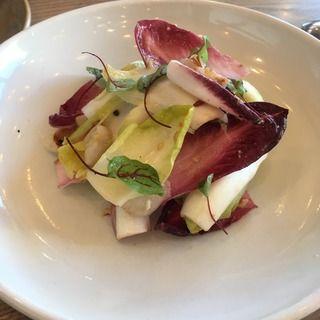 Endive.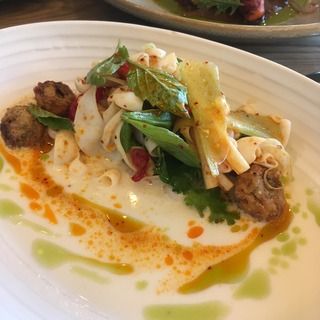 Octopus. Cuttlefish.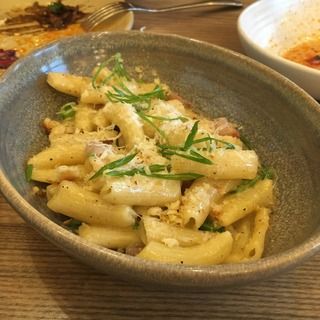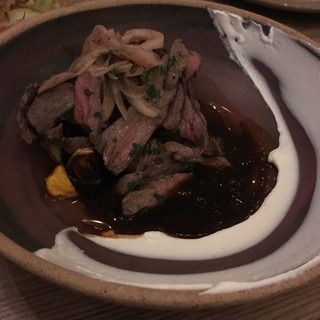 Bucatini. Lamb.
Over different wines, we enjoyed every dish so much (There were a couple more dishes but I forgot to take photos). Every time I'm at Otium, the experience is so special.
Another night in the same week, I was back at Otium with Evan, Jeanna, and Jason (my husband). Evan and Jeanna were visiting from New York, as Evan had some photo shoot in So. Cal. I requested Chef Tim to do a special donabe omakase dinner for us.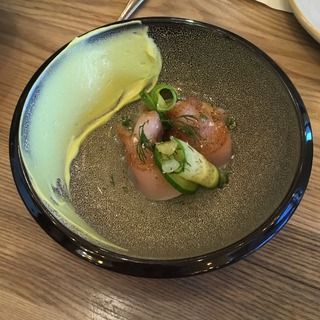 Hamachi, coriander, avocado, lemon, dill.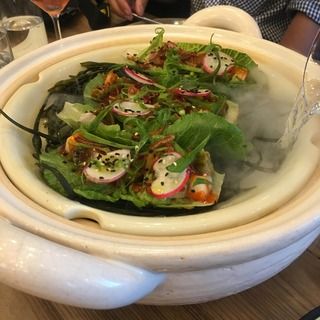 Hiram's, romaine, Korean chili, shishito, ponzu, served in our
donabe steamer, Mushi Nabe
. Once the lid was removed, water was poured through the steam grate, then the cold smoke started to come out. I had no idea there was dry ice underneath. What a creative presentation to serve a cold dish in the donabe steamer!
Little gem, heirloom tomato, purslane, pita, sumac. Burrata tart, tomato, basil, curry, truffle.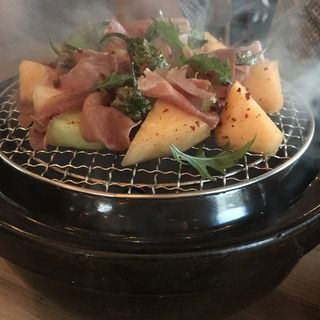 First
donabe smoker, Ibushi Gin
dish was Smoked ham, melon, shishito, charred onion, arugula.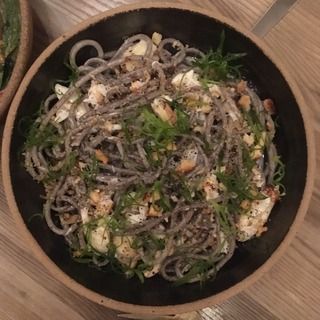 Bucatini, crab, buckwheat, scallion, lime. Cuttlefish, hearts of palm, button mushroom, chile, thai basil.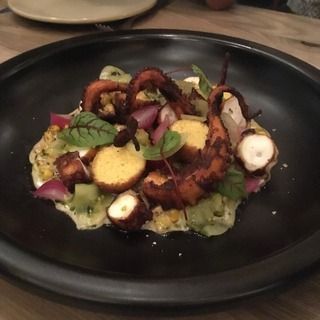 Cajun octopus, hushpuppy, corn, pickled green tomato, were served in
tagine-style donabe, Fukkura-san
. Then,
Iga-yaki grill, Yaki Yaki San
was brought with sizzling Pork belly, fried egg, ponzu, rice cake, with extra rice on the side.
The second smoked dish of Duck, leeks, apricot, black sesame, cashew, in
donabe smoker, Ibushi Gin
.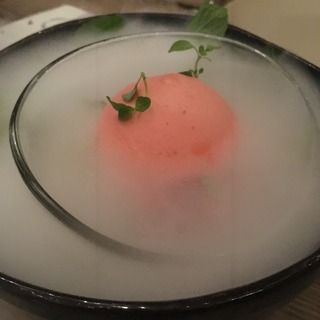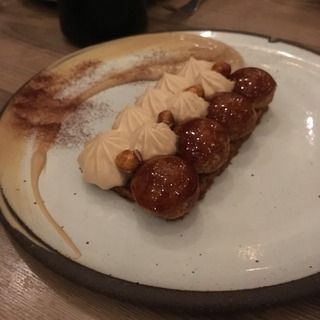 Ice cream sundae. St-Honore, coffee, salted caramel, hazelnut.
Mignardises were all served in different donabe lids. How creative!
Wow, every dish was so unique and so wonderful. I'm constantly amazed by what Chef Tim and the team offer...and their donabe creations are so amazing! I feel so honored that our donabe are used in so many different and creative ways by such talented chefs.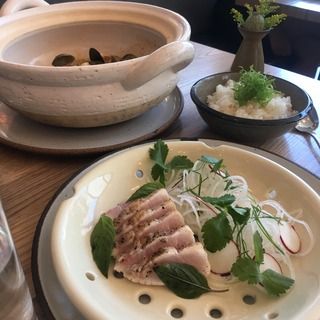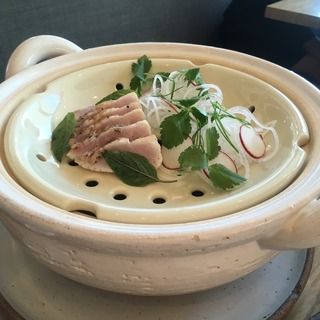 And, the other day, I had another wonderful lunch there. Here's such an unique dish made with
donabe steamer, Mushi Nabe
! Lightly smoked and steamed fish on the top layer, then the steam grate was removed. Inside was a stew of hamagiri clams, scallops, etc. Amazing!
Happy donabe life.