As a final big photoshoot for our upcoming DONABE Cookbook (scheduled to be published in Fall 2015 by Ten Speed Press), we had a donabe beach party in Sonoma, California. I flew into San Francisco and first went to Healdsburg in Sonoma to meet Kyle (my hard-core co-author) and his wife Katina. I stayed at their home for the first night.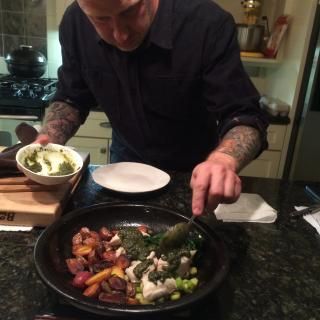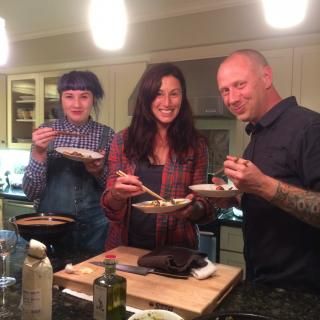 This time, the photoshoot was going to be for all Kyle's recipes, as we finished shooting all my recipes in LA in April. Kyle and Katina planned the whole beach dinner, so I was so excited to be part of it. On the arrival night, Kyle made a test version of his black cod dish, cooked in
Tagine-style donabe, "Fukkura-san"
. Potatoes, black cod, and leeks were steam-fried in the donabe and finished with nori and walnut pesto. It was so delicious. The photo above is a beautiful family of Kyle, Katina, and their younger daughter, Ava. Chloe (the older daughter) is now in collage and lives with her roommates near school. They have my my great friends for over a decade!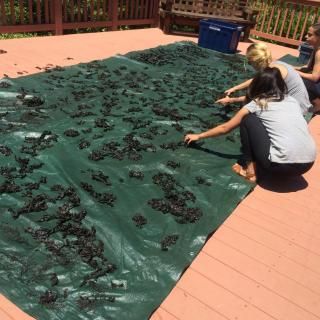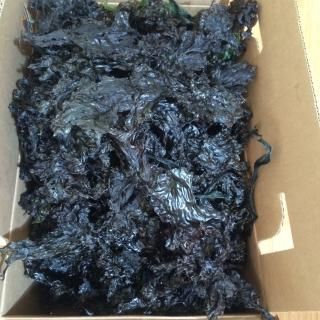 The next day was the big shooting day. In the morning, they drove to a Sonoma Coast to harvest seaweed to use for the dinner. It was too early for me to wake up, so I waited home. Some of the dinner guests joined the harvest and came back home with a lot of nori seaweed to dry under the sun. It took less than half day for them to dry, and the freshly dried nori tasted so nice.
We drove all the way to the venue of the dinner event. It was about more than 1.5-hour drive to the northern part of Sonoma Coast (the area is called Jenner). They rented a private beach house right in front of the ocean. The view was stunning! We were going to stay a night in this beautiful property.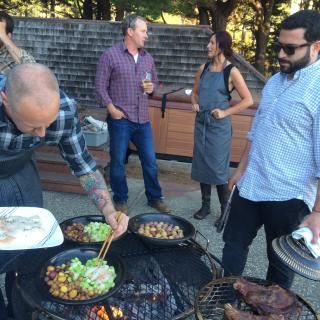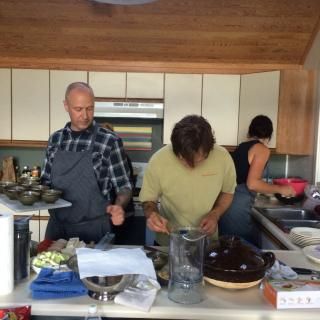 The rest of the dinner guests came later, and the party began. The guests were all Kyle and Katina's friends, and they are some of the most talented chefs/ culinary people in the US. So, even though they were invited as guests, they just naturally started to help setting up the dinner. That was so cool.
Photographer Eric and his assistant Alison. Great team!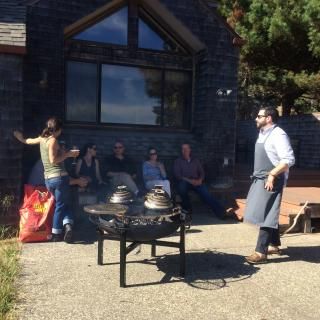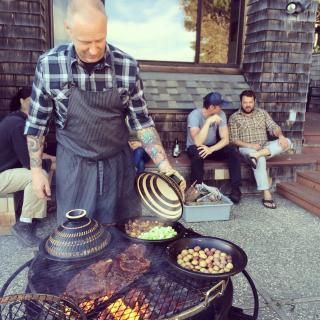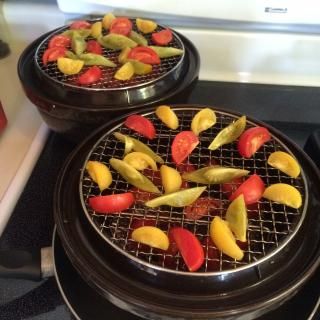 As the dinner was getting ready, our excitement was getting bigger.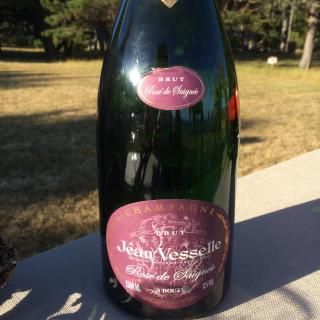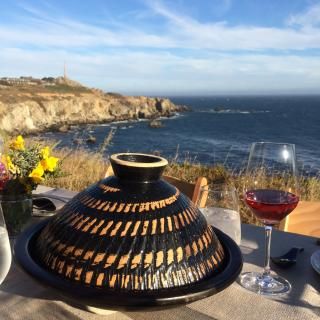 We sat at the table and the dinner service started. Tagine donabe steam-fried cod, crispy potato, leeks and spinach came out fabulous with the nori walnut pesto.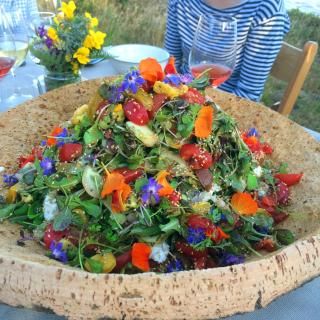 Donabe-smoked hairloom tomato salad, Donabe-steamed soymilk and cork custard with uni, Donabe sous-vide rib of beef with buddha's hand fruit kosho.
Sonoma seafood miso kimch hot pot, topped with the nori harvested in the morning. The hot pot was, of course, finished with "shime" course of donabe rice soupy porridge ("ojiya"). We also had wonderful donabe-baked olive oil cake with peach compote, but it was too dark and I couldn't get a good photo...! But, don't worry, it's going to be in the book and you will want to make it.
It was such a magical donabe dinner. Kyle's donabe dishes were all so incredible! He brought the donabe cooking to a whole another level of California chef style cuisine. Everybody enjoyed this dream donabe beach dinner. Thank you so much, Kyle and Katina.
Happy donabe life.