Before coming back to Japan, I always order a bunch of wines (mostly Burgundy and Champagne) from a Japanese online wine shop and have them shipped to my mom's house. It's always such a treat to do so and taste these wines with my family, especially since the wines I order are not easily found in L.A.
Andre Beaufort, Champagne Brut, Elabore par Saint Jean-Baptiste (Ambonnay)
He is one of my favorite "artisanal" producers in Champagne, and his wines are so hard to find, because the production is so limited. He is one of the pioneers of biologique Champagne. All the labels are put on the bottle by hand manually. Super terroir-oriented. Look at this golden color…the aroma was so deep with the brioche and earthy tone. The mousse was smooth and the finish was so long.
1999 Lou Dumont, Chassagne-Montrachet, 1er Cru "Clos Saint Jean"
"Courtiers Selection". It was hard to believe the wine was almost 10 years old and it still had the bright fruit and the forwardness. Very nice.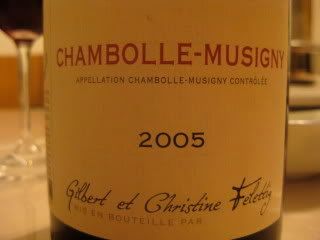 2005 Gilbert et Christine Felettig, Chambolle-Musigny
I felt the pretty powerful tannin in the first attack right after opened. However, as the wine opened up in the air after 15-20 minutes, the feminine side of the wine became more prominent. Great balance and pure Chambolle quality of pure fruit and elegance. 30-year-old vine. Aged in barrel for 15 months (20-30% new oak).
2006 Alain Hudelot-Noellat, Vosne-Romanee
Hew, I got this wine right before it went sold out! Hudelot-Noellat makes the wonderful full-body Vosne-Romanee which shows the beautiful "rose" like aroma derived from its terroir.
Michel Pithois, Champagne, Brut Reserve, Grand Cru (Verzenay, Marne)
Real artisanal RM Champagne. The winemaker is Michel's daughter. I was so lucky to find it this time, because there are only small number of cases are imported to Japan and it sells out so quickly. I taste the rich berry from Pinot Noir. Really beautiful.
2004 Alain Geoffroy, Chablis 1er Cru "Beauroy"
I like 2004 Chablis. This one was showing really well with the earthy character as well as the ripe fruit. I was a kind of surprised how ripe it tasted…almost tropical!
1998 Domaine des Varoilles, Gevrey-Chambertin, 1er Cru "Clos des Varoilles"
It's Varoilloes' monopole vineyard. Great depth and minerality. I often order his wine upon my return to Japan.