January 3, 2009
We were invited to a dinner party at our friend's house tonight. A few of us made different dishes for the group of eight.
Winter Salad
was followed by
Barramundi
was pan-fried and roasted with the herb-panko topping, served with Thai-style coconut-herb sauce. The doneness of the barramundi was so perfect and the flavor was right on.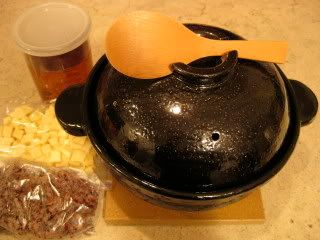 Here's my dish. I was requested to make a rice dish with donabe. To go well with the Thai-style barramundi dish, I made
Azuki Sweet Potato Rice
. The preparation was so easy. I did all the prep-work at home, and brought all the ingredients and donabe (clay pot) to our friend's house. So, all I needed to do was to just assemble and cook! I posted the recipe in my
toiro's website
.
I used three kinds of rice (white, sweet, and black), which brought the wonderful flavor to the dish and also the beautiful red/ purple color (from the black rice). I was so glad that everybody loved my rice and the rice was all gone in just a short time.
Another friend made the
Szechuan Style Oxtail Ste
w. I loved the slight heat in the dish. The dessert was
Lemon Tart
.
Wines were great, too. We started with 1995 Veuve Clicquot, La Grande Dame, Brut. We also had 2006 Fontaine Gagnard, Chassagne-Montrachet, 2005 Van Volxem, Scharzhofberger, Riesling (Saar, Germany), 2006 Etude, Deer Camp, Pinot Noir, and 1995 Allegrini, Amarone Classico.
Life is good.