On one sunny Sunday, we didn't have any special plans, so I wanted to just relax at home and take a walk to the park in the afternoon. It was a perfect kind of day for a quick donabe smoked dish for lunch. I made quick smoke of salmon, boiled eggs, and macadamia nuts with my
donabe smoker, "Ibushi Gin"
, and made a salad dish. It was so delightful!
Smoked Salmon, Eggs, and Macadamia Nut
(Donabe smoker, "Ibushi Gin")
Ingredients:
(2 servings)
12 oz (360 g) about 3/4"-inch (2 cm) thick salmon filet (skin on or off), cut into 4 pieces
1/2 teaspoon sea salt
some freshly ground black pepper
2 boiled eggs (soft runny yolk is preferred), peeled
a good handful raw macadamia nuts
2 lemon wedges
Ohter things you will need:
a piece of aluminum foil
a small handful (about 1/3 oz or 8 g) of smoke chips
Procedure:
Season both sides of the salmon filets with salt and pepper. Set aside for 30 minutes. Pat-dry.
Line the bottom of "Ibushi Gin" with a piece of aluminum foil. Spread the smoke chips so that they make a ring shape. Make sure the foil is tightly attached to the bottom.
Arrange the salmon pieces on the bottom and middle grates. Set the top grate and arrange the boiled eggs (pat-dry first) and macadamia nuts. Set "Ibushi Gin" over high heat.
Once the chips start smoking (about 7-8 minutes), cover with lid and fill the rim with water. Continue to heat for 5 minutes.
Turn off the heat and let "Ibushi Gin" stand for 20 minutes (with lid on).
Serve with lemon wedges with tossed green salad (optional).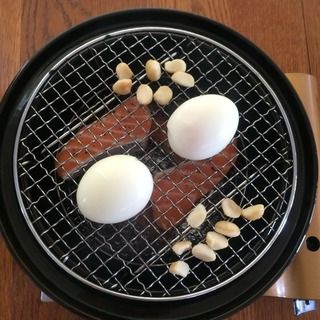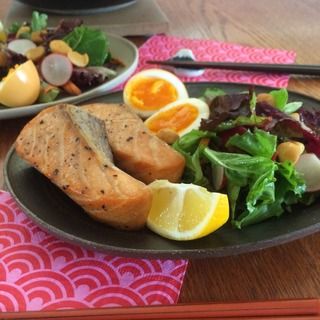 Sooo good!
Happy donabe life.