Here's another version of Ikura rice, with
double-lid donabe rice cooker, "Kamado-san"
. This time, I made sushi rice and topped with smoked salmon and ikura. It's so easy! Here's the recipe.
Smoked Salmon and Ikura Chirashi Sushi
(3 rice-cup size double-lid donabe rice cooker, "Kamado-san")
Ingredients:
(4 - 5 servings)
2 rice cups (360 ml) short grain rice, rinsed and drained
1 1/2 cups (360 ml) minus 2 tablespoons water
2 tablespoons sake
1 piece (2" x 2" or 5 cm x 5 cm) dry kelp ("dashi kombu") (optional)
(vinegar seasoning "sushi-zu" for the rice)
3 tablespoons and 1 teaspoon (50 ml) rice vinegar
1 tablespoon sugar
1 teaspoon salt
1/2 cup (120 ml) or so micro greens (Asian kind is preferred)
6 oz (180 g) smoked salmon (pre-sliced, if available)
4 oz (120 g) ikura (salmon roe)
lemon wedges
wasabi paste (optional)
Procedure:
In "Kamado-san", soak the rinsed rice with the water and sake and put the dry kelp on top of the rice. Soak for 20 minutes.
Place both lids of "Kamado-san" so that the holes of the lids are positioned perpendicular to each other.
Set "Kamado-san" over medium-high heat and cook for 13-15 minutes, or until 2 minutes after the steam starts puffing out of the top lid.
Turn off the heat and let it stand for 20 minutes.
Meanwhile, combine the ingredients for "sushi-zu" and mix until the sugar and salt are dissolved. (You can heat it in the microwave for 25-30 seconds first to make it easier to dissolve.)
Remove both lids of "Kamado-san". Remove the kelp and quickly add the "sushi-zu" to the rice and fluff with a rice paddle.
To decorate, spread the micro greens (save a few pieces for garnish) over the rice, followed by the smoked salmon and ikura. Garnish with a few sprigs of remaining micro greens.
Serve immediately with lemon wedges and some wasabi paste.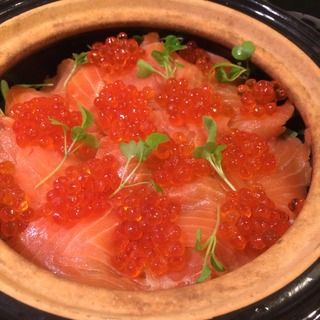 Happy donabe life.