(from March 9, 2011)
Our last dinner of this trip was another special one. We went to
Baedongbaji
in Samchondong area. It was also another "hidden" restaurant, even more so than last night's blowfish restaurant.
Our taxi kept going up and up on the stylish street with cafes and boutiques, then entered into very quiet residential area up on the hill. Even with his GPS and a couple of phone calls, he couldn't find the restaurant, then finally we were right nearby and the owner (who probably heard the car) came out of the restaurant to get us.
This place is indeed a residential house, which was turned into a restaurant. Their dining has only private rooms. Luckily, we were escorted to a second floor room with the nice view overlooking the old town.
It seemed there were only local Korean customers at this restaurant on this evening. The menu was written only in Korean, and the owner spoke very little Japanese or English. But, she was so kind and tried to explain the menu very hard to us. The dinner has only three levels of course meals, and we picked their "basic" dinner course, which sounded to be already a feast.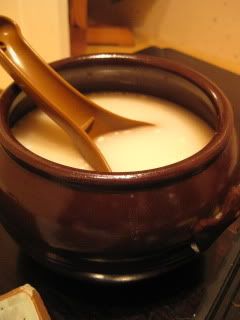 We started with their homemade Dongdongju (freshly fermented rice wine with some rice grains inside). It was so fresh, so tangy, and so tasty. It was certainly more sophisticated version than any dongdongju or makgoli I'd tasted before.
At Baedongbaji, they serve original Korean course dishes, which combines both traditional palace cuisine (including meat and fish) and Buddhist-style vegan cuisine. I learned the owner/ chef has been an expert of wild plant cooking for a few decades, so I was so thrilled to taste her vegetable-oriented dishes.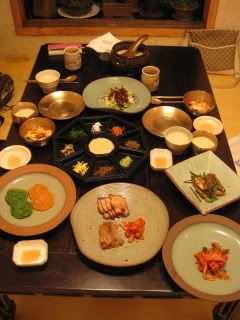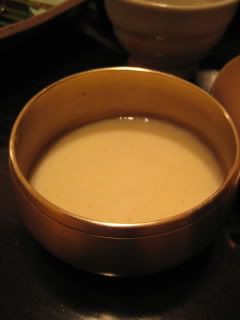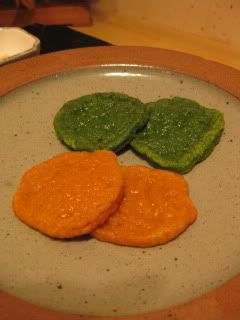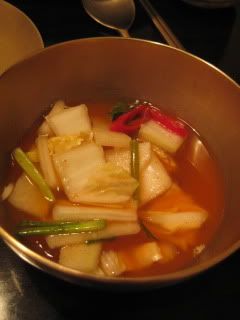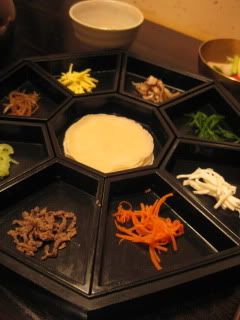 The dinner started with so many dishes. These are basically our "first courses". My eyes were dazzled by the beautifully prepared small dishes. There were porridge, two kinds of vegetable pajeong (pancakes…one was with some weed, and the other was something like turnip), kimchi, etc. Gujeolpan (thin pancakes with elaborated nine different foods…it's like make-your-own tacos) was served with sesame-flavored sauce.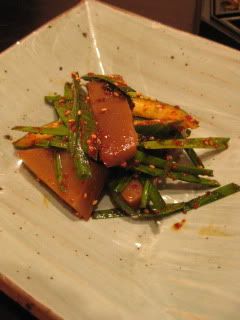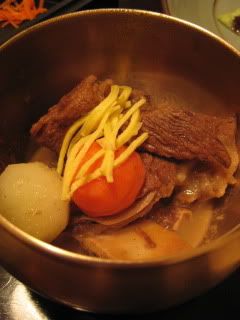 Many more dishes…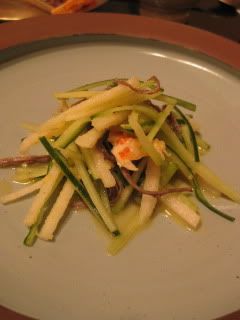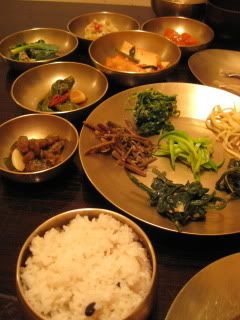 And more…
There were total about 25 dishes, or more than 35 different preparations. If you count the number of ingredients, it must have been dozens of mostly vegetables plus meat and seafood. Quality of all the ingredients were at their highest. And, every single dish had different flavors. We ate so much and got so full, but our bodies felt so good with all the healthy "medicinal" dishes made with so many different kinds of vegetables, medicinal herbs and spices.
I was so inspired by this sophisticated Korean dinner. This has become another place I want to go back every time I visit Seoul.