My mom and I left for a 4-day trip to Seoul. It's been a little over a year since my last visit to Seoul, so I was very excited to go back there.
It was a cold and rainy morning in Tokyo. On our way to Tokyo Haneda Airport, the rain turned to snow!
Before our flight, we had ramen brunch at Setagaya Ramen at the airport. They make very rich fish based broth. My chicken ramen (with clear salt broth) was quite nice.
Flight from Tokyo to Seoul was less than 1.5 hours. Unlike Tokyo, it was a beautiful sunny weather in Seoul when we arrived. The temperature was about 40F (about 4C) but it didn't feel cold at all.
For our first night in this trip, I planned a classic Korean beef BBQ dinner. We went to a very popular local restaurant (it's spelled 知牛 but I don't know how to spell in English) in Myeong-dong. We arrived there before 7pm but the restaurant was already very busy. We were lucky that we had a reservation. A hostess escorted us to the 3rd floor dining room.
Our table was soon filled with all the small dishes, and many kinds of meat to grill. As soon as I tasted their kimchi, I really felt I was back in Seoul and also felt so happy. Their local kimchi taste so real and so good. Kimchi had been one of a few foods I couldn't stand for my whole life until I came to Seoul for the first time last year. I still have a difficulty with aged (almost sour) kimchi, but I enjoy fresh-style kimchi. Makgeolli (Korean rice wine) tasted so fresh (had the nice sourness like yogurt) and went wonderfully with the meat.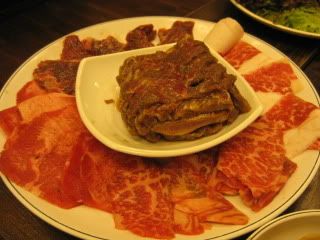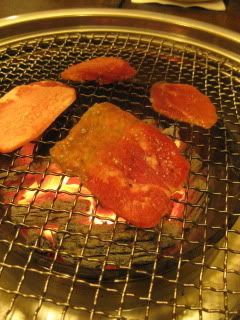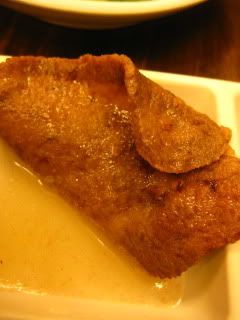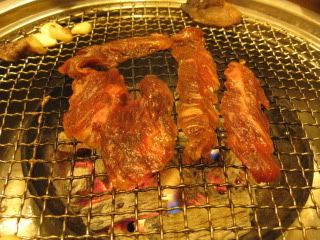 We kept eating beef after beef. This restaurant is known for serving premium-quality domestic (Korean) beef. Yukke (Korean steak tartare) was very fresh. Then, we had tongue, belly (both outside and inside), marinated kalbi, etc. We had 4-5 different cuts of beef. Everything was excellent.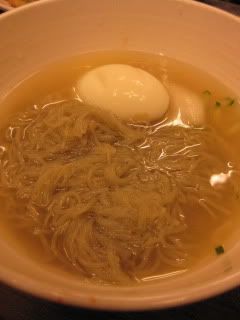 At the end of the meal, we had sizzling bibimbop and cold noodles. My mom was very happy, too.
Our first night dinner was great. But, I ate too much, and I thought my stomach was going to pop after dinner. I ate more beef than I normally eat in a whole month.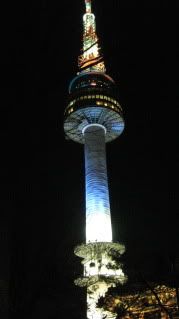 Since the sky was very clear, we went to N Seoul Tower after dinner. It was a lot of fun. The view from the observatory was gorgeous.
I love Seoul.