This past week, I was lucky enough to dine at Jose Andres'
Bazaar
twice in the same week. I love everything about this restaurant. It's so gorgeous (but not cheesy), service is very sophisticated, and the food is tryly exciting. I totally splurged!
Their corkage fee is $30 at Bazaar, so it's not outrageous for the class of restaurant. Their wine list is also wonderful, too. Also, I love their creative cocktails...lime sorbet cocktail made by using liquid nitrogen was such a great scene to watch, and exquisit to taste.
1996 Ployez-Jacquemart, L. d'Harbonville, Champagne Brut
It really shined with the Kumamoto Oyster dish. 70% Chardonnay with the rest is Pinot Noir and Pinot Meunier. The wine was aged in a cask but didn't go through the MLF to retain the clean acid even after aging for many years. It was so gorgeous!
2001 Domaine Ramonet, Chassagne-Montrachet, "Les Ruchottes"
It was so rich and round, yet the wine had the beautiful elegance. That's Ramonet's magic.
2006 Bruno Colin,Chassagne-Montrachet, 1er Cru "Chaumees"
Very sexy but not overpowering. Great minerality with the complexity. It was almost like the "liquid mozzarella".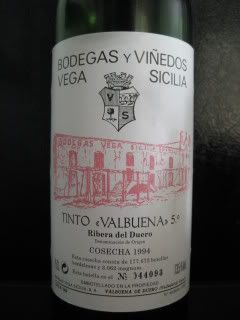 1994 Vega Sicilia, Tinto Valbuena, Ribera del Duero
There was so much going on in this wine. Rich and complex with chocolate, dark berry, and slight smokiness. Wow.