One of my friends brought back a wonderful souvenier from her last trip to Singapore.
It was a package of the medicinal herbal mix for the chicken soup. These herbs are: honey dates, goji berries, jujube, fragrant solomonseal rhizome, rhizoma dioscoreae (Chinese yam), lily bulb, lotus seed, astragalus root, Szechuan lovage root, angeliai sinensis (female ginseng), and tangerine. Mmm...I love medicinal food for the better health. So I tried cooking the chicken with it.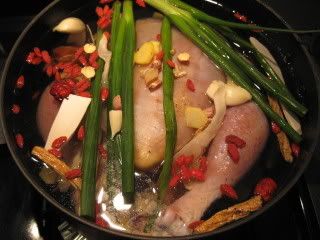 I placed the whole chicken in a pot with the water (just enough to cover the meat), sliced ginger, garlic, scallions, and all the herbal mix. Then, I brought it to boil, reduced heat, skimmed the scum, and simmered with the lid on for 3 hours. It's really like,
Samgaetang
, which is one of my favorite Korean dishes.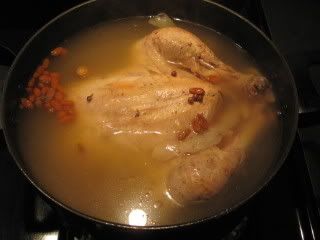 After 3 hours of simmering, you can see the broth is extracted with all the good stuff! I strained the broth, then cooked some sliced daikon, carrots, Napa cabbage, and wood ear musorooms in it. I didn't even add sake to it. At the end, I only seasoned the broth with the salt.
What a wonderful soothing dish! The flavor of the broth was so deep and complex. The chicken was very delicate. The every sip of the soup was so delightful and felt like it's doing something really good for my body (and the skin).
I'd love to make it again, so next time, I'm going to check out
Wing Hop Fung
to see if they carry all these herbs.